Slow-Cooker Corned Beef and Cabbage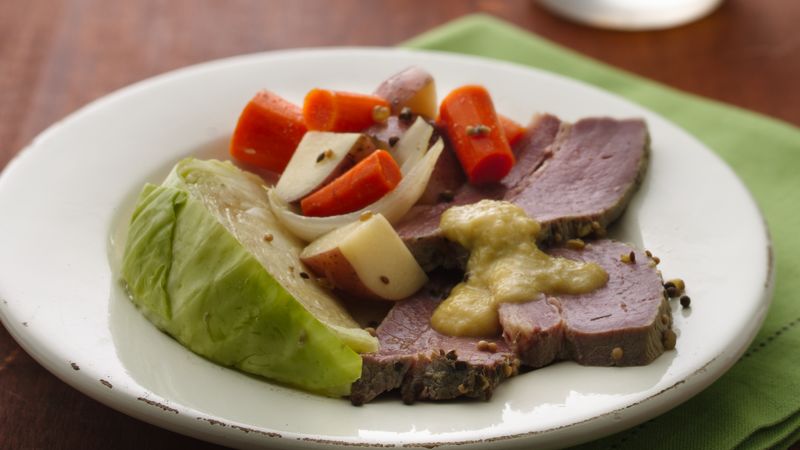 Ingredients
Beef and Vegetables
4

medium red potatoes, unpeeled, cut into 1-inch pieces
4

medium carrots, cut into 1-inch pieces
1

medium onion, cut into 6 wedges
1

corned beef brisket with seasoning packet (2 to 2 1/2 lb)
1

can (12 oz) beer or nonalcoholic beer
Water
8

thin wedges cabbage
Sauce
1/4

cup applesauce
2

tablespoons Dijon mustard
Steps
1

Spray 5- to 6-quart slow cooker with cooking spray. In cooker, place potatoes, carrots and onion. Top with corned beef; sprinkle with contents of seasoning packet. Add beer and enough water to just cover corned beef.

2

Cover; cook on Low heat setting 10 to 12 hours.

3

Remove corned beef from cooker; place on serving platter and cover to keep warm. Add cabbage wedges to vegetables and broth in cooker. Increase heat setting to High. Cover; cook 30 to 35 minutes longer or until cabbage is crisp-tender.

4

Meanwhile, in small bowl, mix sauce ingredients.

5

To serve, cut corned beef across grain into thin slices. With slotted spoon, remove vegetables from cooker. If desired, skim fat from juices in cooker. Serve vegetables with juices and corned beef with sauce.
Notes
Tips
Nutritional Information
Serving Size: 1 Serving
Calories

330

Calories from Fat

140
Total Fat

16g
24%

Saturated Fat

5g
26%

Trans Fat

1/2g
 

Cholesterol

80mg
26%

Sodium

1040mg
43%

Potassium

960mg
28%

Total Carbohydrate

30g
10%

Dietary Fiber

5g
23%

Sugars

7g
 

Protein

18g
 
% Daily Value*:
Vitamin A

100%

Vitamin C

40%

Calcium

8%

Iron

20%
Exchanges:
1 Starch; 0 Fruit; 1/2 Other Carbohydrate; 0 Skim Milk; 0 Low-Fat Milk; 0 Milk; 2 Vegetable; 0 Very Lean Meat; 0 Lean Meat; 0 High-Fat Meat; 1 1/2 Fat;
*Percent Daily Values are based on a 2,000 calorie diet.