Slow-Cooker Reuben Sandwiches
Prep

15

min

Total

11

hr

15

min

Servings

8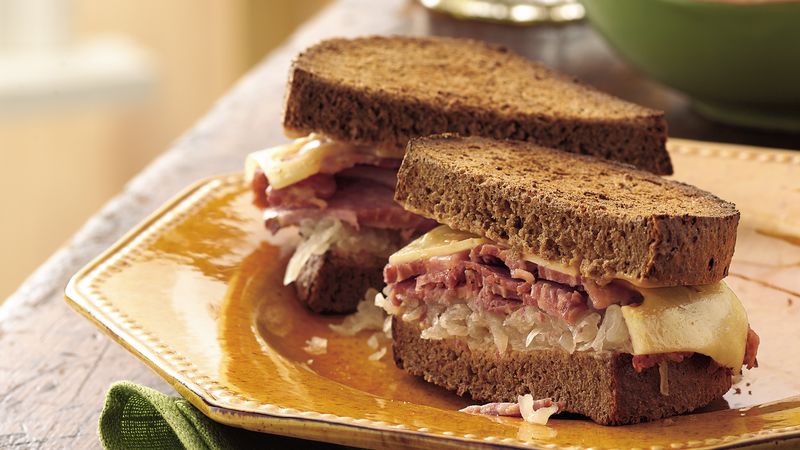 Ingredients
1

package (2 pounds) refrigerated sauerkraut
1

package (2 to 3 pounds) corned beef brisket
1

cup Thousand Island dressing
16

slices pumpernickel rye bread, toasted
8

slices (1 ounce each) Swiss cheese
Steps
1

Place sauerkraut in 3- to 4-quart slow cooker. Place beef brisket on sauerkraut. (If brisket includes packet of spices, sprinkle spices over brisket.)

2

Cover and cook on Low heat setting 9 to 11 hours.

3

Remove beef from cooker; place on cutting board. Cut beef into slices. To serve, spread 1 tablespoon dressing on each toast slice. Using slotted spoon to remove sauerkraut from cooker, top 8 slices toast with 1/2 cup sauerkraut each. Top sauerkraut with beef slices and cheese slice. Top with remaining toast. <BR><BR><B>Note:</B> This recipe was tested in slow cookers with heating elements in the side and bottom of the cooker, not in cookers that stand only on a heated base. For slow cookers with just a heated base, follow the manufacturer's directions for layering ingredients and choosing a temperature.
Notes
Tips
Nutritional Information
Serving Size: 1 Serving
Calories

540

Calories from Fat

315
Total Fat

35 g
 

Saturated Fat

12 g
 

Cholesterol

110 mg
 

Sodium

2390 mg
 

Potassium

430 mg
 

Total Carbohydrate

33 g
 

Dietary Fiber

6 g
 

Protein

29 g
 
% Daily Value*:
Vitamin A

6%

Vitamin C

14%

Calcium

36%

Iron

26%
Exchanges:
2 Starch; 1 Vegetable; 3 High-Fat Meat; 1 Fat;
*Percent Daily Values are based on a 2,000 calorie diet.
© 2017 ®/TM General Mills All Rights Reserved