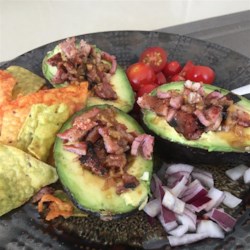 Bacon Stuffed Avocados
Ingredients
8 slices bacon
1/2 cup butter
1/4 cup brown sugar
1/4 cup red wine vinegar
1 tablespoon soy sauce
2 cloves garlic, chopped
salt to taste
4 avocados – halved, pitted, and peeled
Directions
Place bacon in a large skillet and cook over medium-high heat, turning occasionally, until evenly browned, about 10 minutes. Drain bacon slices on paper towels; crumble.
Mix butter, brown sugar, vinegar, soy sauce, and garlic in a saucepan; cook and stir mixture over medium heat until sugar is dissolved, about 10 minutes.
Sprinkle avocado halves with salt; fill each half with crumbled bacon. Drizzle sauce over filled avocados.