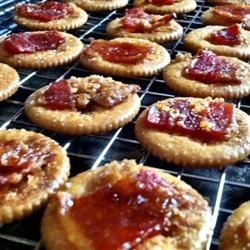 Bacon Crackers
"These sweet, crisp bacon and cracker treats are simple to make and outrageously delicious!"
Ingredients
1 (16 ounce) package buttery round crackers
1 pound sliced bacon, cut into thirds
Directions
Preheat oven to 250 degrees F (120 degrees C).
Arrange the crackers in a single layer on a large baking sheet. Top each cracker with 1/3 slice bacon, and sprinkle desired amount of brown sugar over all.
Bake 1 hour in the preheated oven, or until browned and crisp. Serve warm.