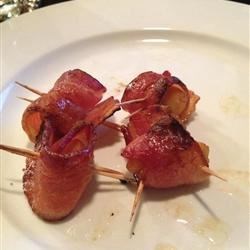 Marinated Scallops Wrapped in Bacon
"This sweet and salty, melt-in-your-mouth appetizer is sure to please anyone!"
Ingredients
3/4 cup maple syrup
1/4 cup low sodium soy sauce
1 tablespoon Dijon mustard
12 large sea scallops, halved
12 slices smoked bacon, halved
24 toothpicks
2 tablespoons brown sugar
Directions
Stir together maple syrup, soy sauce, and Dijon mustard in a bowl until smooth. Add the scallops, and toss to coat. Cover bowl with plastic wrap, and marinate at least one hour.
Preheat oven to 375 degrees F (190 degrees C). Line a rimmed baking sheet with a sheet of aluminum foil.
Arrange bacon pieces on baking sheet so they do not overlap. Bake in preheated oven until some of the grease has rendered out of the bacon; the bacon should still be very soft and pliable, about 8 minutes. Remove bacon from the baking sheet and pat with paper towels to remove excess grease. Drain or wipe grease from the baking sheet.
Wrap each scallop piece with a piece of bacon, and secure with a toothpick. Place onto baking sheet. Sprinkle the scallops with brown sugar.
Bake in preheated oven until the scallops are opaque and the bacon is crisp, 10 to 15 minutes, turning once.