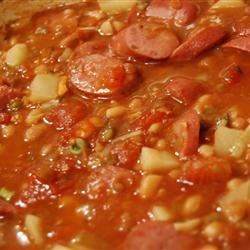 "This do-ahead soup mix allows you always to be prepared!"
Ingredients
1 1/2 cups dried pinto beans
1 1/2 cups white kidney beans
1 cup dry kidney beans
1 cup dry lima beans
1 cup dry garbanzo beans
1/2 cup dried minced onion
1 tablespoon paprika
2 teaspoons salt
1 teaspoon mustard powder
1/2 teaspoon granulated garlic
1 tablespoon chicken bouillon powder
3 cubes beef bouillon
1 tablespoon dried parsley
1/4 cup bacon bits
1/4 cup mixed vegetable flakes
4 quarts water
1/4 cup vegetable oil (optional)
4 (14.5 ounce) cans whole peeled tomatoes
Directions
To make bean mix: Measure pinto, navy, kidney, lima, and garbanzo beans, and combine in a large airtight container or bag.
To make seasoning mix: Combine onion, paprika, salt, mustard powder, garlic, chicken bouillon powder, beef broth, parsley, bacon bits, and vegetable flakes in plastic bag and shake to mix. Place bag in bean container. Store at room temperature.
To make one batch (6 bowls) soup, start 2 1/2 hours before. Rinse 1 1/2 cups bean mix in sieve under running water. Place beans in a three-quart saucepan. Add 5 cups water, 1 tablespoon oil, and 1/4 cup seasoning mix. (You can add 1 can tomatoes and juice at this time, or you can add the juice and reserve the tomatoes to add near the end of the simmering time.) Bring to a boil, reduce heat and cover. Simmer for 2 to 2 1/2 hours until beans are tender.