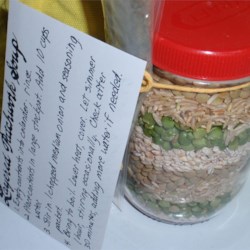 Layered Patchwork Soup Mix
Ingredients
1/2 cup barley
1/2 cup dried split peas
1/2 cup uncooked white rice
1/2 cup dry lentils
1 tablespoon dried parsley
1 teaspoon granulated garlic
1 teaspoon ground black pepper
1 teaspoon salt
1/2 teaspoon garlic powder
1 teaspoon Italian seasoning
1 teaspoon dried sage
Directions
In a wide mouth pint jar layer the barley, split peas, rice, and lentils.
In a small plastic bag combine the parsley, garlic, pepper, salt, garlic powder, Italian seasoning, and sage.
Decorate jar lid and attach seasoning packet with ribbon to jar. Attach a recipe card with the following directions: 1. Empty jar contents into a colander and rinse. 2. Place contents in a large stockpot and cover with 10 cups water. 3. Stir in 1 chopped medium onion, and the seasoning packet. 4. Bring to a boil. Lower heat, cover and simmer for 1 hour, stirring occasionally. Check after 30 minutes and add additional water if necessary.