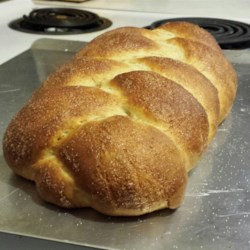 Bread Machine Swedish Coffee Bread
"This is a delicious Swedish coffee bread recipe converted for use with a bread maker! My family is Swedish, and ever year we make this recipe just in time for Christmas. We always enjoy it especially on Christmas morning. We used to make a long, drawn out version that was my great-grandmother's recipe, but thanks to modern conveniences like the bread maker it takes much less time and work! I hope your family enjoys this as much as mine has."
Ingredients
1 cup milk
1/2 teaspoon salt
1 egg yolk
2 tablespoons softened butter
3 cups all-purpose flour
1/3 cup sugar
1 (.25 ounce) envelope active dry yeast
3 teaspoons ground cardamom
2 egg whites, slightly beaten
pearl sugar, or other decorative sugar
Directions
Place ingredients in the pan of the bread machine in the order recommended by the manufacturer. Select dough cycle; press Start.
When the dough cycle has finished, divide into three equal portions. Roll each piece into a rope 12 to 14 inches long. Lay the three ropes side by side, then braid together. Tuck the ends underneath, and place onto a greased baking sheet, cover loosely with a towel, and allow to rise until doubled in bulk.
Preheat oven to 375 degrees F (190 degrees C).
Brush the braid with beaten egg white and sprinkle with pearl sugar. Bake in preheated oven until golden brown, 20 to 25 minutes.