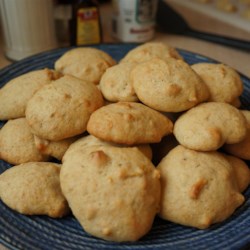 Banana Cookies
"The nuts in these cookies can be ground or finely chopped. For a different twist try using 1/2 cup toasted sesame seeds in place of the nuts."
Ingredients
2 1/4 cups all-purpose flour
2 teaspoons baking powder
1/2 teaspoon salt
1/3 cup shortening
1 cup white sugar
2 eggs
1/2 teaspoon vanilla extract
1/4 teaspoon lemon extract
3 ripe bananas, mashed
1/2 cup ground walnuts
Directions
Preheat oven to 350 degrees F (175 degrees C). Lightly grease or line baking sheets with parchment paper.
In a large bowl cream the shortening and the sugar together. Beat in the eggs, vanilla and lemon extract. Beat in the bananas and the nuts. Gradually add the flour, baking powder and salt.
Drop the dough by spoonfuls onto the prepared baking sheets. Bake at 350 degrees F (175 degrees C) for 12 to 15 minutes or until lightly colored. Transfer to wire racks to cool.