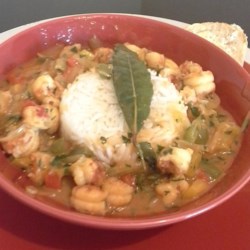 Crawfish Etouffee Georgia Style
"This is a recipe that is often asked for at the restaurant where I work. They never let us make it, but we get asked by guests a lot. We are a full-service French restaurant. This is a home favorite with my wife and kid. Almost as good as rabbit and pig! It's an etouffee to love: thick, rich, and full of taste. Serve on hot steamed rice with garlic bread and a green salad. Enjoy!"
Ingredients
1/2 cup unsalted butter
2 cups finely chopped sweet onions (such as Vidalia(R))
1 cup celery root (celeriac), peeled and finely chopped
2 1/2 tablespoons chopped green bell pepper
3 tablespoons chopped red bell pepper
2 1/2 tablespoons chopped yellow bell pepper
1 pound peeled crawfish tails
2 teaspoons minced garlic
3 bay leaves
1 1/2 tablespoons all-purpose flour
1/2 cup low-sodium chicken broth
1/2 cup water
1 teaspoon coarse smoked salt flakes
1 pinch cayenne pepper, or to taste
3 tablespoons finely chopped fresh parsley
3 tablespoons green onions, chopped
Directions
Melt butter in a large cast iron skillet over medium heat. Stir in onion, celery root, and bell peppers; cook and stir until the onion has softened and turned translucent, 8 to 10 minutes.
Stir in crawfish, garlic, and bay leaves. Cook, stirring occasionally, for 10 to 12 minutes.
Whisk flour into chicken broth and water in a bowl until smooth; pour into crawfish mixture. Season with smoked salt and cayenne pepper.
Bring mixture to a boil. Reduce heat to medium; cook and stir until mixture thickens, about 4 minutes. Stir in parsley and green onions; cook 2 minutes more.