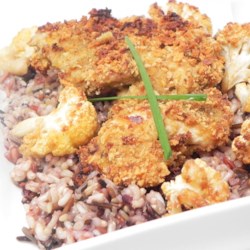 Elegant Pheasant
"An elegant and creamy dish which uses simple ingredients to enhance the flavor of the bird. What could be better than legendary rosemary and savory Dijon mustard as partners."
Ingredients
1/2 cup kosher salt
2 quarts water
4 skinless pheasant breast halves
1 (16 ounce) package herb seasoned stuffing mix, crushed
2 tablespoons melted butter
1/4 cup mayonnaise
1/4 cup sour cream
1/2 teaspoon chopped fresh chives
2 tablespoons Dijon mustard
salt and black pepper to taste
Directions
Stir the kosher salt into the water until dissolved. Soak the pheasant breasts in the brine for 1 hour at room temperature.
Preheat an oven to 350 degrees F (175 degrees C). Place the herb seasoned stuffing mix crumbs into a shallow bowl; set aside. Whisk the butter, mayonnaise, sour cream, chives, and Dijon mustard together in a bowl until evenly mixed.
Remove the pheasant breasts from the brine. Rinse in the sink, and pat dry with paper towels. Season the breasts to taste with salt and pepper if desired. Roll the breasts in the mayonnaise mixture, then press into the stuffing mix crumbs until covered on all sides. Gently shake excess crumbs from the breasts, and place into a 9×13-inch baking dish. Cover the baking dish with aluminum foil.
Bake in the preheated oven until the pheasant breasts are no longer pink in the center, about 1 hour. Turn the oven off, remove the foil, and allow the breasts to cook 15 minutes more. An instant-read thermometer inserted into the center should read at least 165 degrees F (74 degrees C).