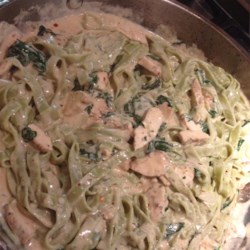 Rattlesnake Pasta
"A rich creamy and lightly spicy pasta dish with fresh vegetables and rattlesnake meat or grilled chicken."
Ingredients
1 pound dry fettuccine pasta
2 tablespoons vegetable oil
1/4 cup sliced onions
1/2 cup chopped yellow squash
1/2 cup zucchini, cut diagonally into 1/2 inch thick slices
3/4 cup sliced mushrooms (optional)
1 1/4 cups heavy cream
1 jalapeno pepper, seeded and minced
1 teaspoon minced garlic
1 tablespoon Dijon mustard
1 tablespoon Cajun seasoning
1/2 cup grated Parmesan cheese
1/2 cup diced tomatoes
salt and pepper to taste
3 tablespoons vegetable oil
1 pound rattlesnake meat, cut into 1/2 inch pieces
flour for dredging
Directions
Bring a large pot of lightly salted water to a boil. Add fettuccine and cook for 8 to 10 minutes or until al dente; drain.
Meanwhile, heat 2 tablespoons of oil in a large skillet over medium-high heat, add the onions, squash, zucchini, and mushrooms; cook and stir for 5 minutes, until the vegetables are heated through but still firm. Pour in the cream and the cooked fettucine and simmer for 4 minutes. Mix in the jalapeno, garlic, mustard, and Cajun seasoning and cook for 1 minute. Stir in the Parmesan cheese and the tomatoes. Reduce the heat to low.
Preheat 3 tablespoons of oil in a large skillet over high heat. Dredge the rattlesnake meat in flour and pan fry for 5 minutes or until well done. Arrange the meat on top of the vegetables and pasta to serve.