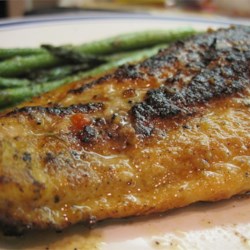 Blackened Catfish
Ingredients
2 teaspoons cayenne pepper
2 teaspoons lemon pepper
2 teaspoons garlic powder
2 teaspoons salt
2 teaspoons pepper
1 pound catfish fillets
2 tablespoons butter
1 cup Italian-style salad dressing
Directions
Preheat oven to 350 degrees F (175 degrees C). Lightly grease a medium baking dish.
In a shallow, medium bowl, mix cayenne pepper, lemon pepper, garlic powder, salt and pepper.
Brush both sides of catfish fillets with butter. Rub fillets with the cayenne pepper mixture on both sides.
Heat a large heavy skillet over medium-high heat until really hot. Add fillets, and fry approximately 2 minutes on each side, until slightly blackened.
Arrange blackened fillets in a single layer in the prepared baking dish, and coat with Italian-style salad dressing. Bake 30 to 35 minutes in the preheated oven, until fish is easily flaked with a fork.