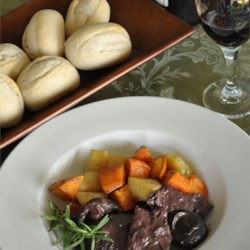 Braised Venison with Rosemary and Shiitake
"Try my savory and sophisticated dish I created to please my hunter. I like to serve this with spaetzle, merlot, and salad."
Ingredients
2 tablespoons bacon drippings
1 1/2 pounds venison, cut into 2 inch cubes
2 cups fresh shiitake mushrooms, stemmed and sliced
2 medium onions, chopped
4 cloves garlic, minced
2 tablespoons cognac or brandy (optional)
2 cups dry red wine
1 cube beef bouillon
1/4 teaspoon black pepper
1/2 teaspoon dried thyme leaves
1 1/4 teaspoons dried rosemary
2 bay leaves
1 (8 ounce) package baby carrots (optional)
1 tablespoon cornstarch (optional)
2 tablespoons water (optional)
Directions
Melt the bacon drippings in a large Dutch oven over medium-high heat. Sear the venison in two batches until nicely browned and remove. Stir in the shiitake, onions, and garlic; cook until softened, 1 to 2 minutes. Pour in the cognac, wine, and bouillon cube, simmer for 30 seconds to remove the alcohol flavor and dissolve the bouillon.
Stir in the venison, pepper, thyme, rosemary, and bay leaves. Bring to a boil, then reduce heat to low and simmer gently until the venison is tender, about two hours or more; adding water as needed.
If using baby carrots, add them during the last half hour of cooking. When the venison is tender, you may wish to thicken the sauce by dissolving the cornstarch in 2 tablespoons of water and stirring it into the sauce.