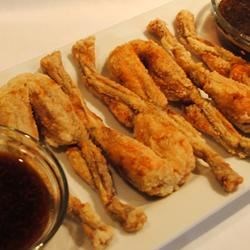 Butter Fragranced Frog Legs
"This is a very popular dish in most Asian seafood restaurants. The crispy breaded frog legs blend very well with the melted garlic butter sauce. I serve mine on a platter garnished with lettuce leaves, sliced tomatoes, and lime wedges. Enjoy!"
Ingredients
1 pound frog legs, rinsed and patted dry
2 teaspoons white sugar
2 teaspoons garlic salt
1/2 teaspoon black pepper
Oil for deep frying
1 egg, beaten
3/4 cup cornstarch or tapioca starch
2 tablespoons butter
2 teaspoons garlic, minced
Salt to taste
Dipping Sauce:
1/4 cup soy sauce
1 tablespoon lime juice
2 teaspoons chili paste or sauce
1 teaspoon white sugar
1 teaspoon minced garlic
1/2 teaspoon sesame oil (optional)
Directions
Place the frog legs into a bowl and sprinkle with a mixture of 2 teaspoons sugar, garlic salt, and black pepper. Toss until evenly coated, then set aside to marinate for 30 minutes.
Heat at least 2 inches of oil in a large, heavy pot to 350 degrees F (175 degrees C).
Mix the frog legs in the beaten egg to coat, then drain off excess. Toss in cornstarch, and shake off excess. Fry in hot oil until golden brown and cooked through; 4 to 5 minutes. Turn once to insure they cook evenly.
While the frog legs are cooking, melt butter in a small skillet over medium heat; stir in 2 teaspoons of minced garlic. Cook gently for about 3 minutes until the garlic softens, season with salt to taste.
When the frog legs have finished cooking, drain well on paper towels, then place onto a serving dish. Pour garlic-butter sauce overtop; serve with dipping sauce.
To make the dipping sauce, stir together the soy sauce, lime juice, chili paste, 1 teaspoon of sugar, and 1 teaspoon of minced garlic in a small bowl. Season to taste with sesame oil if desired.