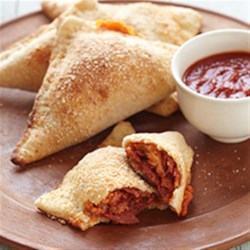 Cheesy Bison Pepperoni Pizza Turnovers
Recipe By:The Bison Council
"These pizza turnovers with spicy bison sausage with pepperoni seasoning are easy to make for a great snack or weeknight dinner."
Ingredients
1 (13.8 ounce) package refrigerated pizza dough
3/4 cup bison sausage with pepperoni seasoning
3/4 cup shredded mozzarella cheese
1/2 cup pizza sauce
3 tablespoons sliced green onions
Milk
1/4 cup grated Parmesan cheese
Pizza sauce, warmed
Directions
Preheat oven to 400 degrees F. Line a baking sheet with foil; grease foil. Set baking sheet aside. Unroll pizza dough onto a lightly floured surface. Roll dough into a 15-inch square. Cut dough into nine 5-inch squares.
For filling, combine bison pepperoni, mozzarella cheese, the 1/2 cup pizza sauce, and the green onions in a medium bowl. Place about 3 tablespoons of the filling on each dough square. Fold one corner of each square over filling to the opposite corner, stretching dough as needed to cover the filling. Seal edges and prick tops with a fork.
Place turnovers on the prepared baking sheet. Brush lightly with milk and sprinkle with Parmesan cheese. Bake for 15 to 18 minutes or until golden brown. Serve with additional warm pizza sauce.