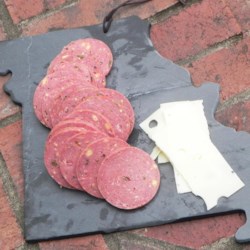 Gramps' Venison Summer Sausage
"This recipe has been going around in our family for years. Each year around hunting season, my gramps would make this for all the hunters and family that were visiting for the season."
Ingredients
5 pounds ground venison
2 tablespoons sugar-based curing mixture (such as Morton(R) Tender Quick(R))
2 teaspoons mustard seed
2 1/2 teaspoons garlic salt
2 1/2 teaspoons ground black pepper
1 teaspoon liquid smoke flavoring
Directions
Place the venison in a large mixing bowl. Sprinkle with the curing mixture, mustard seed, garlic salt, pepper, and liquid smoke. Mix well with your hands until the mixture is evenly blended and begins to stick together, about 2 minutes.
Cover the bowl with plastic wrap and refrigerate for 3 days, mixing well each day.
Preheat an oven to 200 degrees F (95 degrees C).
Divide the mixture into 5 one-pound logs, place onto a broiler pan, and place a sheet of aluminum foil on top to cover.
Bake in the preheated oven until the logs are no longer pink in the center, and an instant-read thermometer inserted into the center reads 160 degrees F (70 degrees C), 6 to 8 hours. Turn the meat once or twice during cooking. Allow to cool before slicing thinly and serving.