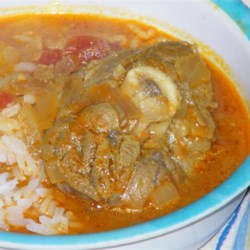 Kabritu Stoba (Dutch Antilles Goat Stew)
"This is a spicy stew with goat's meat as a main ingredient. Serve over rice, funchi or potatoes."
Ingredients
4 cups cool water
3 tablespoons lime juice
2 pounds goat stew meat, cut into 1-inch cubes
2 tablespoons vegetable oil
1 onion, diced
1 red bell pepper, diced
1 tablespoon tomato paste
1 cup water
1 tablespoon distilled white vinegar
1 tablespoon sweet soy sauce
1 teaspoon nutmeg
1 teaspoon paprika
Salt and pepper to taste
Directions
Stir together the water, lime juice, and goat meat in a large container. Let stand for 10 minutes, then drain the meat in a colander, and squeeze out as much water as possible.
Heat the canola oil in a large skillet until smoking over medium-high heat. Add the drained goat meat, and cook until browned all over, about 7 minutes. Stir in the onion and bell pepper, cook until the onion has softened, about 3 minutes, then stir in the tomato paste. Pour in the water, vinegar, and soy sauce; season with nutmeg, paprika, salt, and pepper.
Bring to a boil over high heat, then reduce heat to medium-low, cover, and simmer until the meat is tender, about 1 1/2 hours. Stir occasionally and add more water if needed to prevent sticking.