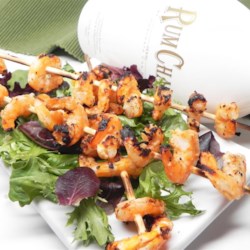 RumChata(R) Marinated Shrimp
"Shrimp marinated with RumChata(R), skewered, seasoned with Grill Mates(R) Montreal Chicken Seasoning, then cooked on the grill."
Ingredients
1 pound raw jumbo shrimp, shelled and deveined
8 wooden skewers
1/4 cup rum cream liqueur (such as RumChata(R))
2 tablespoons chicken seasoning (such as McCormick(R) Grill Mates(R) Montreal Chicken(R)), or to taste
cooking spray
Directions
Thread shrimp on wooden skewers. Place in a container and cover with rum cream liqueur. Let marinate in the refrigerator, 3 to 4 hours.
Preheat an outdoor grill for high heat and lightly oil the grate.
Pour out rum cream liqueur. Sprinkle chicken seasoning over shrimp. Spray with cooking spray.
Grill until shrimp turn pink, about 3 minutes per side.