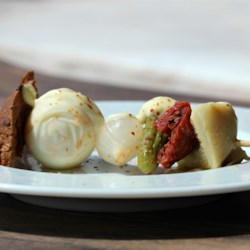 (Quail) Egg Salad Sandwiches on a Stick
Recipe By:
Buckwheat Queen
"My kids love quail eggs. Even though they taste exactly like hen eggs, they want quail eggs because they are so little and fun. They challenged me to make an egg salad on a stick and this is what I came up with. Use whatever ingredients your family likes. They are healthier than hen eggs. Typically 5 quail eggs equals one serving. Serve chilled or at room temperature with mustard, mayonnaise, and capers."
Ingredients
16 quail eggs
1 tablespoon distilled white vinegar
1 teaspoon salt
16 bread cubes, toasted
2 marinated artichoke hearts, drained and quartered
16 cocktail onions
8 miniature pickles
8 sun-dried tomatoes packed in oil, drained
8 skewers
1/4 teaspoon ground paprika
Directions
Place eggs in a saucepan and cover with water; stir in vinegar and salt. Bring to a boil, reduce heat to medium, cover the saucepan, and cook until eggs are set, about 4 minutes. Let sit, covered, for 2 minutes. Rinse eggs in cold water and cool to room temperature; peel.
Thread 1 bread cube, 1 artichoke quarter, 1 onion, 1 egg, 1 pickle, 1 onion, 1 egg, 1 sun-dried tomato, and 1 bread cube, respectively, onto each bamboo skewer. Sprinkle finished "sandwiches" with paprika.