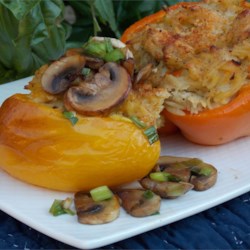 Orzo and Chicken Stuffed Peppers
"This dish looks beautiful and tastes like you cooked all day. Any combination of green, yellow, and red peppers works well; I use all three for color. You can also use low-sodium chicken broth and Smart Balance(R) spread."
Ingredients
cooking spray
1 green bell pepper – halved, seeded, and stem removed
1 red bell pepper – halved, seeded, and stem removed
1 yellow bell pepper – halved, seeded, and stem removed
1 tablespoon butter
2 tablespoons olive oil
3 green onions, sliced
4 cloves garlic, minced
2 skinless, boneless chicken breast halves, cut into 1/2-inch cubes
1 teaspoon ground black pepper
1 teaspoon ground cumin
1 cup orzo
1 (16 ounce) can chicken broth
3 tablespoons Parmesan cheese
1 teaspoon olive oil
1 teaspoon butter
2 portobello mushrooms, thinly sliced
1 green onion, thinly sliced
salt and ground black pepper to taste
Directions
Preheat the oven to 375 degrees F (190 degrees C).
Spray inside of green, red, and yellow bell pepper halves with cooking spray; place on a baking sheet.
Bake peppers in the preheated oven until slightly tender, about 10 minutes.
Heat 1 tablespoon butter and 2 tablespoons oil in a skillet over medium heat; cook and stir 3 green onions and garlic until fragrant, 2 to 3 minutes. Add chicken, black pepper, and cumin; cook until chicken is no longer pink in the center and juices run clear, 4 to 5 minutes. Add orzo and chicken broth; simmer until orzo is cooked through but firm to the bite and broth is absorbed, about 11 minutes. Spoon chicken-orzo mixture into the bell peppers; sprinkle with Parmesan cheese.
Bake in the preheated oven until cheese is melted, about 7 minutes.
Heat 1 teaspoon oil and 1 teaspoon butter in skillet; Cook and stir portobello mushrooms and remaining green onion until tender, about 5 minutes. Season with salt and black pepper. Spoon about 2 tablespoons mushroom mixture onto each stuffed bell pepper.