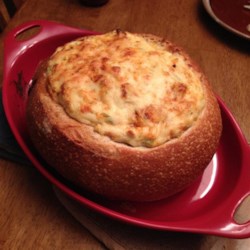 Baked Crab and Artichoke Dip
"This baked crab and artichoke dip is made and served in a bread bowl that you can eat too!"
Ingredients
2 (8 ounce) packages cream cheese, softened
1 pound lump crabmeat, drained
1 (14 ounce) can artichoke bottoms, drained and chopped
6 ounces shredded white Cheddar cheese
1/2 cup finely diced red bell pepper
1/3 cup chopped green onions
1/2 cup sour cream
1/4 cup mayonnaise
3 cloves garlic, minced
1 lemon, zested and juiced
2 teaspoons chopped fresh tarragon
1 teaspoon Worcestershire sauce
1 pinch cayenne pepper, or more to taste
salt and freshly ground black pepper to taste
1 round loaf sourdough bread
2 tablespoons shredded white Cheddar cheese
Directions
Preheat oven to 375 degrees F (190 degrees C). Line a baking dish with aluminum foil.
Combine cream cheese, crab meat, artichoke bottoms, 6 ounces Cheddar cheese, red bell pepper, green onions, sour cream, mayonnaise, garlic, lemon zest and juice, tarragon, Worcestershire sauce, and cayenne pepper in a large bowl; season with salt and black pepper.
Cut the top 1/3 off the loaf of sourdough bread and discard. Remove the bread filling and discard, leaving just the crust. Place in the prepared baking dish.
Transfer artichoke mixture to the prepared bread bowl; top with 2 tablespoons Cheddar cheese and cayenne pepper.
Bake in the preheated oven until dip is warmed and top is golden brown, about 30 minutes.