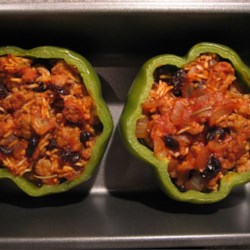 Greek-Style Stuffed Peppers
"One of the few dishes that is better served cold rather than hot. Absolutely delicious and very Mediterranean!!! It can be made vegetarian by replacing meat with soya."
Ingredients
4 large green bell peppers, tops removed, seeded
4 large red bell peppers, tops removed, seeded
1 tablespoon olive oil
1/2 pound ground pork
2 onions, chopped
salt and pepper to taste
1/4 cup dry white wine
1 (10.75 ounce) can tomato puree
1 (4 ounce) package feta cheese
1/2 cup cooked white rice
1/2 cup raisins
1/2 cup pine nuts
2 tablespoons chopped fresh parsley
Directions
Preheat oven to 350 degrees F (175 degrees C). Place green and red bell peppers in a bowl with enough warm water to cover, and soak 5 minutes.
Heat the olive oil in a skillet over medium heat. Place pork and onions in the skillet, season with salt and pepper, and cook until pork is evenly brown. Drain grease, and mix in wine and tomato puree. Continue cooking 10 minutes.
Transfer skillet mixture to a large bowl, and mix in feta cheese, cooked rice, raisins, pine nuts, and parsley. Stuff peppers with the mixture, and arrange in a baking dish. Cover with aluminum foil.
Bake 30 minutes in the preheated oven. Remove foil, and continue baking 10 minutes, until stuffing is lightly browned. May be served hot or cold.