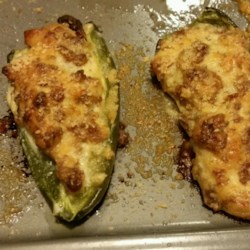 Kickin Stuffed Peppers
"Tired of boring stuffed green peppers? Try these baked jalapenos with a delicious cream cheese filling full of flavor! They are great as an appetizer or side."
Ingredients
1 pound mild pork sausage
1 (8 ounce) package Neufchatel cheese, cubed
15 fresh jalapeno peppers, halved lengthwise and seeded
1/4 cup grated Parmesan cheese
Directions
Preheat an oven to 350 degrees F (175 degrees C). Lightly grease a baking sheet.
Place a skillet over medium-high heat; add sausage and cook until brown; drain and return pan to heat. Stir the cream cheese into the sausage and cook until completely melted; remove from heat.
Spoon equal portions of the sausage mixture into the jalapeno halves and arrange onto the prepared baking sheet; sprinkle the Parmesan cheese over the stuffed peppers.
Bake in the preheated oven until the peppers are soft and the tops are lightly browned, about 30 minutes.