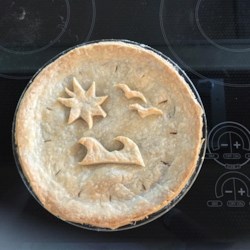 Cajun Oyster Pie
"A Louisiana favorite! You may add cooked vegetables to the filling if you wish."
Ingredients
3 thick slices bacon
1 tablespoon vegetable oil
2 tablespoons all-purpose flour
3/4 cup milk
18 shucked oysters, drained with liquid reserved
1 teaspoon Worcestershire sauce
1/2 teaspoon Cajun seasoning
2 (9 inch) unbaked 9 inch pie crusts
Directions
Preheat oven to 350 degrees F (175 degrees C). Place bacon in a large, deep skillet. Cook over medium high heat until evenly brown. Drain bacon, reserving 1 tablespoon bacon grease. Crumble bacon and set aside.
Heat bacon grease and vegetable oil over medium heat. Stir in flour and cook until flour is light brown. Slowly whisk in milk and 1 cup reserved oyster liquid. Stir until a thick gravy has formed.
Stir in Worcestershire sauce, Cajun seasoning and oysters. Pour mixture into a 9 inch pie shell and cover with top crust.
Bake in preheated oven for 30 minutes, until crust is golden.