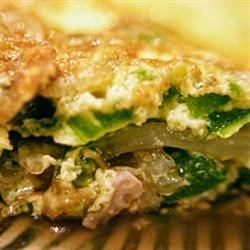 Egg Foo Young
"Fresh veggies and ham are sauteed with ginger, then folded into beaten eggs and cooked up like little omelets. Use bacon or chicken, or any meat you prefer. Serve with soy sauce, if desired."
Ingredients
3 teaspoons vegetable oil, divided
1 slice fresh ginger root, minced
6 green onions, chopped
1 stalk celery, sliced
2 cups bean sprouts
2 mushrooms, sliced
1 green bell pepper, chopped
1/4 cup chopped cooked ham
1 teaspoon salt
6 eggs, beaten
Directions
Heat 2 teaspoons oil in a large skillet over medium-high heat. Saute ginger, green onions, celery, bean sprouts, mushrooms, green pepper, ham and salt until vegetables are tender.
In a large bowl combine beaten eggs and vegetable mixture.
Heat 1 teaspoon oil in a medium skillet over medium heat. Pour in egg mixture to form a small omelet. Cook until golden brown on each side. Repeat with remaining egg mixture.