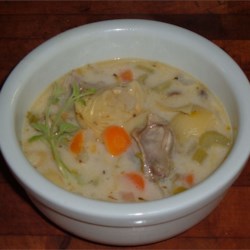 Elegant Oyster Soup
"Delicious. Takes a little extra time, but it's worth the effort. Serve hot with green salad and crusty French bread"
Ingredients
2 tablespoons butter
1/2 cup carrot, finely chopped
1/2 cup onion, finely chopped
1/2 cup celery, finely chopped
1/2 cup button mushrooms, chopped
1/2 cup butter
1/4 cup all-purpose flour
1 quart chicken broth
1 (14 ounce) can artichoke hearts, drained
1 bay leaf
3/4 teaspoon salt
1/2 teaspoon cayenne pepper
1/4 teaspoon dried thyme
1/4 teaspoon dried oregano
1/4 teaspoon dried sage
1 cup heavy cream
12 shucked oysters and juice
Directions
In a large pot, saute chopped carrot, onion, celery and fresh mushrooms in 2 tablespoons of butter for 5 minutes or until the onions are transparent.
In another large pot, melt 1/2 cup butter and stir in the flour. Cook for 5 minutes.
Whisk in the chicken broth to the flour mixture. Add the sauteed vegetables, artichokes hearts, bay leaf, salt, cayenne pepper, thyme, oregano and sage. Simmer for 30 minutes over medium heat.
Whisk in cream and add oysters; bring to a simmer, but do not boil.