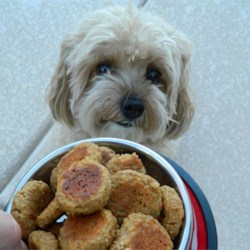 Liver Lickers Dog Treats
"A wonderful blend of your dog's favorite tastes all in one treat!"
Ingredients
3/4 cup wheat germ
3/4 cup nonfat dry milk powder
1 egg
1 tablespoon brewers' yeast
1 (3.5 ounce) jar pureed liver baby food
1/4 cup water, or as needed
Directions
Preheat the oven to 350 degrees F (175 degrees C).
In a medium bowl, stir together the wheat germ, milk powder, egg, yeast and liver baby food. Add water if necessary to make a workable dough. Drop by teaspoonfuls onto a greased cookie sheet.
Bake for 20 minutes in the preheated oven. Remove from cookie sheet to cool on wire racks. Store in an airtight container in the refrigerator.