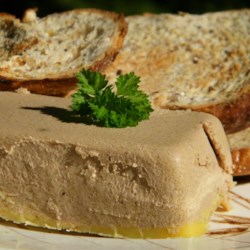 Liver Pate
Recipe By:
William Anatooskin
"A great appetizer for New Year's Day and the Rose Bowl Parade. Serve with thinly sliced brown bread, rye crisp, crackers or chips."
Ingredients
3 cups water
1 pound chicken liver
1 onion, thinly sliced
1/4 cup chopped onion
3 tablespoons cooking sherry
3/4 cup butter, softened
1/4 teaspoon salt
1/4 teaspoon ground black pepper
1/8 teaspoon ground mace
Directions
In a medium saucepan, combine water, chicken livers, and sliced onion. Bring to a boil, reduce heat to low, and cover. Simmer for about 20 minutes, or until liver is cooked and tender. Remove from heat, drain, and discard onions. Also remove and discard any hard portions of the liver.
Place cooked livers in a blender or food processor, and process until smooth. Add chopped onion, sherry, butter or margarine, salt, black pepper, and mace; pulse to blend. With hands lightly greased, form pate mixture into a mound, and place on a serving platter. Chill for 1 hour before serving.