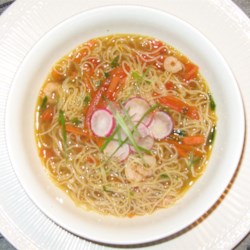 Oriental Shrimp Noodle Soup
Recipe By:
Lindsay Perejma
"For extra flavors, add a splash of sherry to the soup before serving."
Ingredients
2 teaspoons vegetable oil
1 onion, chopped
2 cloves garlic, minced
1 tablespoon minced fresh ginger root
1 pinch crushed red pepper
2 quarts chicken broth
1 cup peeled, diagonally sliced carrots
1 cup diagonally sliced celery
2 cups snow peas
12 ounces fresh shrimp, peeled and deveined
4 ounces rice vermicelli
2 tablespoons soy sauce
1/4 teaspoon ground black pepper
Directions
In a large saucepan over medium heat cook onion, garlic, ginger and crushed red pepper in oil for 2 minutes. Pour in broth, carrots and celery and bring to a boil. Reduce heat, cover and simmer 5 minutes. Stir in snow peas and shrimp, cover and cook 3 minutes. Break noodles into 2 inch pieces and stir in to soup; cover and cook 3 minutes more, until vegetables are tender and shrimp is pink. Stir in soy sauce and pepper and serve.