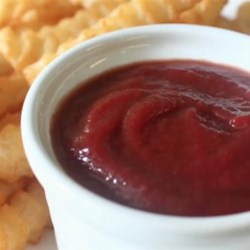 Homemade Ketchup
"This ketchup does come close to those name brands in terms of taste, texture and color. I've never had a tomato paste-based ketchup that I liked, so I decided to cook down crushed tomatoes instead. By using the slow cooker, we take most of the labor out of the process."
Ingredients
2 (28 ounce) cans peeled ground tomatoes
1/2 cup water, divided
2/3 cup white sugar
3/4 cup distilled white vinegar
1 teaspoon onion powder
1/2 teaspoon garlic powder
1 3/4 teaspoons salt
1/8 teaspoon celery salt
1/8 teaspoon mustard powder
1/4 teaspoon finely ground black pepper
1 whole clove
Directions
Pour ground tomatoes into slow cooker. Swirl 1/4 cup water in each emptied can and pour into slow cooker. Add sugar, vinegar, onion powder, garlic powder, salt, celery salt, mustard powder, black pepper, cayenne pepper, and whole clove; whisk to combine.
Cook on high, uncovered, until mixture is reduced by half and very thick, 10 to 12 hours. Stir every hour or so.
Smooth the texture of the ketchup using an immersion blender, about 20 seconds.
Ladle the ketchup into a fine strainer and press mixture with the back of a ladle to strain out any skins and seeds.
Transfer the strained ketchup to a bowl. Cool completely before tasting to adjust salt, black pepper, or cayenne pepper.