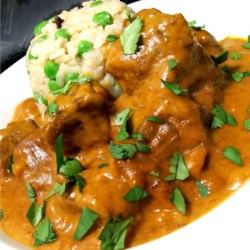 Butter Lamb Gravy
"Lamb is simmered in a spicy tomato and cream sauce. This is a very mouthwatering dish that is easy to make. Serve with hot cooked rice or your favorite bread. You can even make a variation with chicken, salmon or beef."
Ingredients
2 pounds boneless lamb shoulder, cut into 1 inch pieces
1/2 teaspoon garam masala
salt to taste
2 tablespoons butter, divided
1 onion, chopped
1/2 teaspoon ground turmeric (optional)
1/2 teaspoon minced ginger
1/2 teaspoon minced garlic
1/2 teaspoon cayenne pepper, or to taste
1 tablespoon tomato paste
1 cup water
1/2 cup heavy cream
1 tablespoon honey
1 cup chopped fresh cilantro
Directions
Season the lamb with garam masala and salt. Heat 1 tablespoon of butter in a large skillet over medium heat. Fry the lamb cubes until browned, stirring constantly. Remove from the skillet and set aside.
Melt the remaining butter in the same skillet over medium heat. Add the onion; cook and stir until the onion has softened and turned translucent, about 5 minutes.
Stir in the turmeric, ginger, and garlic. Cook and stir for 1 minute. Stir in the cayenne and tomato paste until well blended, then stir in the water. Bring to a simmer and return lamb to the skillet. Simmer over low heat for about 20 minutes, or until lamb is tender.
Stir in the cream and honey. Transfer to a serving dish and garnish with cilantro.