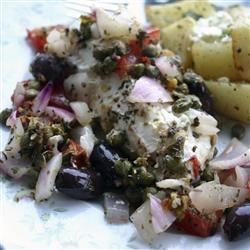 Easy Mediterranean Fish
"This fish is so easy and really flavorful. If you like spicy, try sprinkling a little bit of cayenne pepper as well as the seasoning on the fish before pour the mixture over it. One of the household favorites!"
Ingredients
4 (6 ounce) fillets halibut
1 tablespoon Greek seasoning (such as Cavender's(R))
1 large tomato, chopped
1 onion, chopped
1 (5 ounce) jar pitted kalamata olives
1/4 cup capers
1/4 cup olive oil
1 tablespoon lemon juice
salt and pepper to taste
Directions
Preheat an oven to 350 degrees F (175 degrees C).
Place halibut fillets on a large sheet of aluminum foil and season with Greek seasoning. Combine tomato, onion, olives, capers, olive oil, lemon juice, salt, and pepper in a bowl. Spoon tomato mixture over the halibut. Carefully seal all the edges of the foil to create a large packet. Place the packet on a baking sheet.
Bake in the preheated oven until the fish flakes easily with a fork, 30 to 40 minutes.