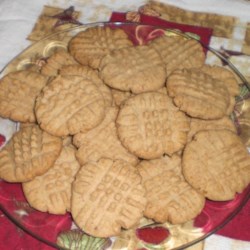 Fast and Easy Israeli Tahini Cookies
"A quick and simple Middle Eastern/Mediterranean hit. I've seen both little Jewish grandmothers in Jerusalem make these cookies and Bedouin women living in the middle of the desert. A great simple recipe that isn't too sweet, is very versatile and fast. Enjoy."
Ingredients
3 cups all-purpose flour
1 cup white sugar
2 teaspoons baking powder
14 tablespoons unsalted butter, melted
1 cup tahini
Directions
Preheat oven to 355 degrees F (180 degrees C). Line a baking sheet with waxed paper.
Mix flour, sugar, and baking powder together in a large bowl; add butter and tahini and mix until dough is crumbly. Roll dough into small balls and press each ball into a flattened cookie shape using your palms. Arrange cookies in the prepared baking sheet and press with a fork.
Place the baking sheet on the middle rack of the oven and bake until cookies are golden, about 10 minutes. Cool cookies on baking sheet for 2 to 3 minutes before transferring to a wire rack to cool completely.