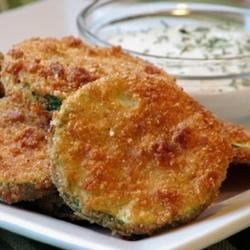 Fried Green Zucchini
"Just like fried green tomatoes, but with zucchini instead."
Ingredients
1/2 cup seasoned bread crumbs
1/2 cup grated Parmesan cheese
1 teaspoon garlic salt
2 eggs
5 tablespoons olive oil
1 zucchini, cut into 1/4-inch slices
1 cup shredded mozzarella cheese
1 cup prepared spaghetti sauce, heated (optional)
Directions
Mix together the seasoned bread crumbs, grated Parmesan cheese, and garlic salt in a shallow bowl. Beat the eggs in a second shallow bowl.
Heat the olive oil in a large skillet over medium heat until the oil is rippling, but not smoking.
Dip the zucchini slices into the beaten egg, then into the crumbs, and place in the skillet in a single layer. Fry the zucchini slices until golden brown, about 3 minutes, then flip them over and fry until the slices are cooked through and golden brown on the other side. Sprinkle the mozzarella cheese over the slices, and cook the slices 1 to 2 more minutes to allow the cheese to melt.
To serve, spoon hot spaghetti sauce onto plates, and top with fried zucchini slices and melted cheese.