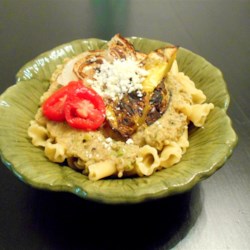 Mediterranean Grilled Eggplant Spread
"Grilled fresh veggies and herbs come together for a light spread that doubles as an add-in for grilled fish and chicken dishes. Try adding to pasta with fresh tomatoes and feta! Great served with a sauvignon blanc for warm summer nights."
Ingredients
1/2 red bell pepper
1 large eggplant, peeled and sliced
2 thick slices red onion
1/4 cup extra-virgin olive oil, or more to taste
2 tablespoons chopped fresh basil, or to taste
1 1/2 teaspoons chopped fresh oregano, or to taste
1/4 lemon, juiced
sea salt and ground black pepper to taste
1/4 cup crumbled feta cheese (optional)
Directions
Preheat an outdoor grill for high heat, and lightly oil the grate.
Arrange red bell pepper, eggplant, and onion slices on on the preheated grill; cook until red pepper is charred and eggplant and onion are tender with grill marks, 5 to 7 minutes per side. Place red pepper in a paper bag and close tightly to 'sweat', about 10 minutes; peel the charred skin off the pepper.
Blend red bell pepper, eggplant, onion, olive oil, basil, oregano, lemon juice, sea salt, and black pepper in a food processor until smooth and spreadable. Stir in feta cheese.