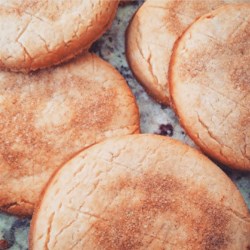 Biscochitos
Recipe By:
Patricia Romero
"This cookie is traditional in Taos, New Mexico. This particular recipe was given to me by my mother, Margaret Miera Romero."
Ingredients
6 cups all-purpose flour
1/4 teaspoon salt
3 teaspoons baking powder
2 cups shortening
1 1/2 cups white sugar
2 teaspoons anise seed
2 eggs
1/4 cup brandy
1/4 cup white sugar
1 teaspoon ground cinnamon
Directions
Preheat the oven to 350 degrees F (175 degrees C)
Sift flour with baking powder and salt. Cream shortening with sugar and anise seeds until fluffy. Beat in eggs one at a time. Mix in flour and brandy until well blended.
Turn dough out on a floured board and pat or roll to 1/4 or 1/2 inch thickness. Cut into shapes (the fleur-de-lys is traditional). Dust with a mixture of 1/4 cup sugar and 1 tsp cinnamon.
Bake for 10 to 12 minutes in the preheated oven, or until golden brown.