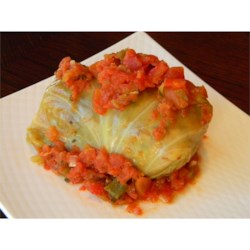 Cabbage Tamales
"These are a combo of German and Mexican food that are very good. You can cook these in a pressure cooker, slow cooker, or oven, as well as prepare them to freeze and fix at a later time."
Ingredients
8 cabbage leaves
1 pound ground beef
1 1/2 cups uncooked white rice
2 (6.5 ounce) cans tomato sauce
3 teaspoons New Mexico red chile powder
2 cloves garlic, minced
1/2 cup chopped onions
salt and ground black pepper to taste
2 (10 ounce) cans diced tomatoes with green chile peppers
Directions
Freeze the cabbage leaves or blanch them for about 3 minutes in a large pot of boiling water to soften.
Place the ground beef, rice, tomato sauce, chile powder, garlic, onion, salt, and black pepper in a bowl. Mix with your hands until combined. Divide the meat mixture into 8 portions and place the meat on the softened cabbage leaves. Roll the leaves up to form logs and tuck the edges under the logs.
Place the tamales into a pressure cooker or slow cooker. Pour diced tomatoes with green chiles over tamales.
To cook tamales in a pressure cooker: seal the lid of the pressure cooker and bring it up to full pressure. Reduce the heat to low, maintaining full pressure, and cook for 1 hour. Use the quick-release function or allow the pressure to reduce naturally.
To cook tamales in a slow cooker: place the lid on the slow cooker and set it on High. Cook the tamales for 4 hours.