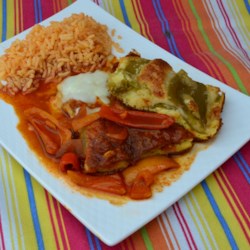 Hatch Chile Relleno Casserole with Ranchero Sauce
"Hatch chiles are New Mexico's gift to the world. Here are layers of Hatch chiles and melted cheese wrapped up in a coat of puffy egg and then baked instead of fried."
Ingredients
4 egg whites
1 cup evaporated milk
1/3 cup all-purpose flour
1 teaspoon salt
1 pound Oaxaca cheese, shredded
27 ounces canned Hatch chile peppers, sliced open
Sauce:
2 tablespoons vegetable oil
1 medium white onion, diced
2 cloves garlic
3 tablespoons New Mexico chile powder
1 teaspoon salt
1/2 teaspoon cumin
1 red bell pepper, sliced
1 tablespoon all-purpose flour
1 (14.5 ounce) can chicken broth
Directions
Preheat the oven to 350 degrees F (175 degrees C). Coat a 9×13-inch baking dish with cooking spray.
Place egg whites in a bowl and beat until stiff. Gently fold in evaporated milk, flour, and salt. Cover bottom of baking dish with 1/2 the egg white mixture. Place chiles flat over egg whites. Sprinkle Oaxaca cheese over chiles. Top with remaining chiles and egg white mixture.
Bake in the preheated oven until eggs are set, about 30 minutes.
While casserole bakes, heat oil in a medium saucepan over medium-high heat. Saute onion and garlic for 2 minutes. Add chile powder, salt, and cumin. Cook and stir for another minute. Add bell peppers and cook until soft, 3 to 5 minutes. Add flour and stir for 2 minutes. Slowly add broth, stirring to avoid lumps. Bring to a boil; reduce heat to low and simmer until casserole is ready.
Serve the sauce with slices of the chile relleno casserole.
Hatch Mild Whole Green Chiles 4 oz (Pack of 3)