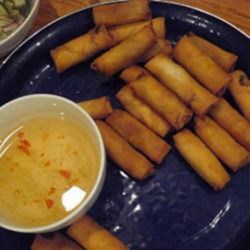 Po Piah (Thai Spring Rolls)
"This is my favorite snack of all times. It's a little bit time consuming to make, but I usually make a big batch and freeze them. They can be deep-fried frozen. Serve them with spring roll sauce or sweet chile sauce and Thai ajad, pickled cucumber salad."
Ingredients
1 (2 ounce) package mung bean noodles
1/2 cup ground pork
1 1/4 cups bean sprouts
1 cup finely chopped cabbage
1 egg
2 tablespoons light soy sauce, or to taste
1 teaspoon white sugar, or more to taste
1/4 teaspoon ground white pepper, or to taste
1 tablespoon vegetable oil
4 cloves garlic, minced
1 (16 ounce) package small spring roll wrappers
1 tablespoon all-purpose flour
2 tablespoons water, or as needed
2 cups vegetable oil for frying
Directions
Cover mung bean noodles with warm water and soak until soft, about 30 minutes. Cut into 1/2-inch pieces.
Combine pork, bean sprouts, cabbage, mung bean noodles, egg, light soy sauce, sugar, and white pepper in a bowl. Mix well.
Heat 1 tablespoon oil in a skillet over medium-high heat and cook garlic until fragrant, about 1 minute. Add pork mixture and stir-fry until pork is cooked through and looks somewhat dry, about 3 minutes. Add more soy sauce, sugar, or pepper to taste. Set aside to cool.
Stir 1 tablespoon flour with some water to make a sticky paste for sealing the spring rolls.
Lay 1 spring roll wrapper on a flat work surface with one of the corners facing you. Place a scant teaspoon of the cooled filling right below the middle of the wrap. Fold the corner facing you over the filling. Roll the filling up about a half turn. Fold the left and right sides in to create an envelope shape. Finish rolling up the spring roll tightly, sealing the top corner with a dab of the flour paste. Store unused wrappers and finished spring rolls under a moistened kitchen towel, to prevent them from drying out.
Heat oil in a heavy pot over medium-low heat. Fry spring rolls in batches until cooked through and golden brown, about 5 minutes. Drain on paper towels and serve immediately.