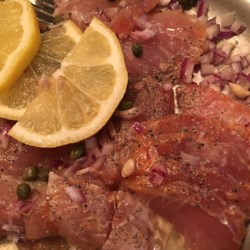 Santa Fe Tuna Carpaccio
"This is a recipe I had made after coming back from Cabo San Lucas. It's a light and refreshing appetizer that you can't get enough of."
Ingredients
1 (1 pound) loaf French bread
10 ounces ahi (yellowfin) tuna, sushi-grade – sliced 1 inch long and 1/8 inch thick
1/4 cup onion, cut into 1/8-inch dice
2 tablespoons capers, drained
3 ounces olive oil
3 tablespoons fresh lemon juice
1 teaspoon kosher salt
1/4 teaspoon freshly ground black pepper
Directions
Slice the French bread 1/4 inch thick, and set aside.
Place the tuna slices in a single layer in a flat nonreactive dish. Sprinkle the tuna with onion and capers; drizzle with olive oil and lemon juice. Sprinkle with kosher salt and black pepper.
Serve slices of tuna on sliced French bread.