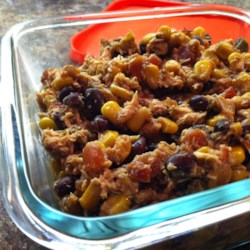 Slow Cooker Low-Carb Santa Fe Chicken
Recipe By:
Michelle Handrahan Henschell
"Easy clean eating, low-carb. Serve over rice or tortillas with your favorite toppings."
Ingredients
1 (15 ounce) can black beans, rinsed and drained
1 (14.5 ounce) can fat-free chicken broth
1 (14.5 ounce) can diced tomatoes with green chile peppers
1 (8 ounce) bag frozen corn
1/4 cup chopped fresh cilantro
3 scallions, chopped
1 teaspoon garlic powder
1 teaspoon onion powder
1 teaspoon ground cumin
1 teaspoon cayenne pepper, or to taste
salt to taste
1 1/2 pounds skinless, boneless chicken breast halves
Directions
Combine black beans, chicken broth, diced tomatoes with green chile peppers, corn, cilantro, scallions, garlic powder, onion powder, cumin, cayenne pepper, and salt in the crock pot. Season chicken breast with salt and lay atop the beans mixture.
Cook on Low for 9 1/2 hours.
Remove chicken from slow cooker to a cutting board; shred into strands, return to the slow cooker, and stir into the beans mixture.
Continue cooking on Low for 30 minutes more.