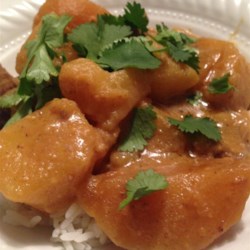 Slow Cooker Mussaman Curry
"Smooth and delicious beef and potato curry with peanuts. I created a slow-cooker version of this famous Thai dish. This is easy to cook and does not take much time to prepare. It goes well with a scented white rice and steamed veggies as a side."
Ingredients
2 potatoes, cut into large chunks
1 small onion, coarsely chopped
2 tablespoons butter
1 1/4 pounds beef chuck, cut into 1-inch cubes
3 cloves garlic, minced
1 (14 ounce) can coconut milk
1/4 cup peanut butter
3 tablespoons curry powder
3 tablespoons Thai fish sauce
3 tablespoons brown sugar
2 cups beef broth
1/2 cup unsalted, dry-roasted peanuts
Directions
Place the potatoes and onion in a slow cooker.
Melt the butter in a skillet over medium-high heat. Cook the beef and garlic together in the melted butter until the beef is browned on all sides. Transfer the beef and garlic to the slow cooker while keeping the beef drippings in the skillet.
Return the skillet to the medium-high heat. Stir the coconut milk, peanut butter, and curry powder into the reserved beef drippings; cook and stir until the peanut butter melts. Pour the coconut milk mixture into the slow cooker. Turn the slow cooker on to Low; stir the fish sauce, brown sugar, and beef broth into the slow cooker.
Cook on Low until the beef is fork-tender, 4 to 6 hours. Stir the peanuts into the curry about 30 minutes before serving.