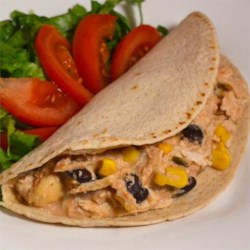 Slow Cooker Santa Fe Chicken
"Easy slow-cooker meal."
Ingredients
1 (15 ounce) can black beans, drained
1 (14 ounce) can whole kernel corn
1/2 cup salsa
4 skinless, boneless chicken breast halves
1/2 cup salsa
1 (8 ounce) package cream cheese, cut into cubes
8 tortillas
Directions
Combine the black beans, corn, and 1/2 cup salsa in a slow cooker. Lay chicken breast atop the black bean mixture; top with another 1/2 cup salsa.
Cook on High for 3 hours.
Add cream cheese to chicken mixture; cook another 30 minutes.
Spoon chicken mixture into middle of tortillas; roll tortillas around filling.