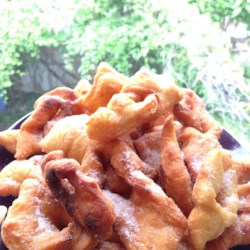 Sopapillas
"This is a flat bread that is easy to prepare, and is usually served with something sweet to put on top. Honey or cinnamon sugar. I prefer it with honey butter. Sometimes it can be served with guacamole or bean dips in place of traditional tortillas."
Ingredients
2 cups all-purpose flour
2 teaspoons baking powder
1 teaspoon salt
2 tablespoons shortening
3/4 cup water
2 cups vegetable oil for frying
Directions
In a large bowl, sift together flour, baking powder and salt. Cut in shortening until mixture resembles coarse crumbs. Using hands, mix in water to make a smooth dough. Knead lightly on a floured surface. Cut dough into 12 pieces, and shape into round balls. Cover, and set aside.
Heat oil in deep-fryer to 375 degrees F (190 degrees C).
On a lightly floured surface, roll dough into thin circles. Cut each circle into triangles. Fry in hot oil, until golden brown, turning when dough puffs. Remove, and drain well on paper towels.