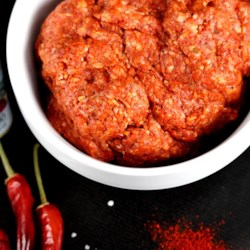 Turkey Chorizo (Loose, not Encased)
"In college, I spent some summers in New Mexico, where I fell in love with authentic Mexican chorizo. But having become very health-conscious, my husband and I have been trying to replicate that chorizo flavor in extra lean ground turkey. This recipe tastes just like the pork chorizo from our favorite taco trucks. Serve in tacos, burritos, quesadillas, omelets, or breakfast burritos. I suggest serving on corn tortillas, with chopped onion and cilantro garnish, and a squeeze of lime."
Ingredients
3 dried red chile peppers, or more to taste
2 tablespoons apple cider vinegar
2 tablespoons red chile powder
1 tablespoon water
1 tablespoon crushed dried oregano
2 teaspoons salt
2 large cloves garlic, minced
1 teaspoon cumin seeds
3/4 teaspoon white sugar
1/2 teaspoon freshly ground black pepper
1 1/4 pounds extra-lean ground turkey breast
2 teaspoons olive oil
1/2 lime, juiced
1/4 orange, juiced
Directions
Pulse dried red chile peppers in a spice grinder until coarsely ground.
Combine ground chile peppers, apple cider vinegar, red chile powder, water, oregano, salt, garlic, cumin, sugar, and black pepper in a large bowl; mix well. Add turkey; mix until seasonings are well-incorporated.
Heat olive oil in a large skillet over medium-high heat. Add seasoned turkey; cook, stirring frequently to break up clumps, until no longer pink, 3 to 5 minutes. Stir in lime juice and orange juice. Continue cooking until browned, about 5 minutes more.