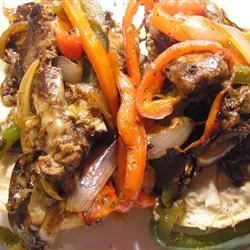 Sicilian Steak Sandwich
Italian versionof the classic Philly cheesesteak is a meal on a bun. Tender tri-tip steak is pan fried with onion, bell peppers, and hot peppers, then topped with blue cheese and aged provolone."
Ingredients
Artichoke Aioli:
1 (6.5 ounce) jar marinated artichoke hearts, drained
2 tablespoons mayonnaise
2 tablespoons grated Parmesan cheese
1 teaspoon lemon zest
1/2 lemon, juiced
1/4 teaspoon red pepper flakes
salt and ground black pepper to taste
Filling:
2 tablespoons olive oil
1 1/2 pounds beef tri-tip steak, thinly sliced
1 teaspoon Italian seasoning
1 onion, sliced thin
1 yellow bell pepper, sliced into strips
1 orange bell pepper, sliced into strips
1/4 cup pickled sweet and hot pepper rings
1/4 cup garlic basil spread (see footnote for recipe link)
1 cup sliced mushrooms
1 tablespoon capers
1 tablespoon Marsala wine
1 anchovy fillet (optional)
12 slices aged provolone cheese
1/4 cup crumbled Gorgonzola cheese
Assembly:
4 Italian-style hoagie buns, split lengthwise
1/4 cup chopped fresh basil
Directions
Combine artichoke hearts, mayonnaise, Parmesan cheese, lemon zest, lemon juice, red pepper flakes, salt, and black pepper in a food processor or blender. Blend until smooth. Cover and refrigerate until ready to use.
Heat olive oil in a large pot or Dutch oven over medium-high heat. Stir tri-tip steak slices into the hot oil and cook, stirring constantly until they begin to brown, about 3 minutes. Sprinkle with Italian seasoning, salt, and black pepper. Add onion, yellow pepper, orange pepper, sweet hot peppers, and garlic basil spread; cook and stir until onion begins to soften, about 5 minutes. Stir in mushrooms, capers, Marsala wine, and anchovy fillet and cook until mushrooms are browned and wine has evaporated, about 5 minutes.
Place provolone cheese and Gorgonzola cheese on top of the hot beef mixture and gently fold until cheese is melted, about 2 minutes. Remove beef-cheese mixture from heat.
Spread each hoagie bun with about 1/4 cup artichoke aioli. Spoon beef-cheese mixture into buns and garnish with basil.