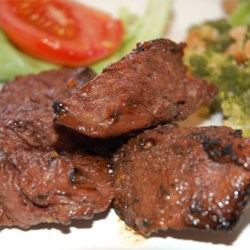 Steak  Marinade
Ingredients
1/2 cup Worcestershire sauce
1 cup Italian-style salad dressing
2 teaspoons garlic pepper seasoning
1 cup barbeque sauce
2 pounds beef sirloin tip steaks
Directions
In a medium bowl, mix the Worcestershire sauce, Italian-style salad dressing, garlic pepper seasoning, and barbeque sauce. Place the meat in the marinade, and turn to coat. Cover, and refrigerate for at least 1 hour.
Preheat grill for high heat.
Brush grill lightly with oil to prevent sticking. Place steaks on the grill, and discard marinade. Grill steaks 10 minutes on each side, or to desired doneness.