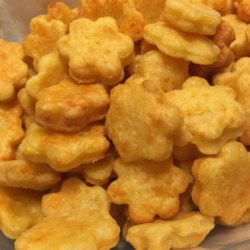 Homemade Goldfish Treats
"Spice up your day with some flavorful cheese crackers! Wonderful cheese taste with not a lot of ingredients!"
Ingredients
8 ounces shredded sharp Cheddar cheese
1 cup all-purpose flour
1/4 cup butter, cut into cubes
3/4 teaspoon salt
2 tablespoons cold water
Directions
Combine Cheddar cheese, flour, butter, and salt in a food processor; pulse until dough is consistency of course sand. Add water, 1 tablespoon at a time, until dough is moistened.
Wrap dough in plastic wrap and refrigerate for 20 minutes.
Preheat oven to 350 degrees F (175 degrees C). Line a baking sheet with parchment paper.
Roll dough onto a lightly floured work surface and cut into desired shapes using a cookie cutter. If you choose to use a fish cut-out, use a toothpick to make faces. Arrange shapes on the prepared baking sheet.
Bake in the preheated oven until golden brown and crispy, 15 to 16 minutes.