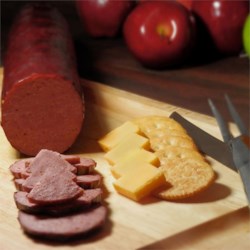 Summer Sausage
"A very tasty sausage that is nice to give away in gift baskets. Add or omit spices to suit your taste."
Ingredients
5 pounds ground beef
5 teaspoons sugar-based curing mixture (such as Morton(R) Tender Quick(R))
1/4 cup mustard seed
3 tablespoons garlic powder
1 teaspoon cayenne pepper
1 tablespoon red pepper flakes
1 tablespoon salt
1/2 teaspoon hickory-flavored liquid smoke
Directions
In a large bowl, mix beef, curing mixture, mustard seed, garlic powder, cayenne, red pepper flakes, salt, and liquid smoke. Cover with plastic, and refrigerate for three days, mixing well once a day.
On the fourth day, preheat oven to 200 degrees F (100 degrees C).
Shape the mixture into five logs, and place on a wire rack over a large drip pan. Bake for eight hours, then remove to cool on paper towels. Let cool, then wrap logs individually in plastic wrap. Chill completely before slicing. They also freeze well.